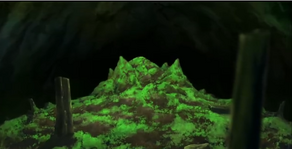 Whilst its name is unknown, this monster kakashi is one of the most powerful and dangerous of all the kakashi shown so far. It resembles a tailless lizard, with four legs and a head that doubles as a mouth. From here, a large laser can be shot. Whilst this, coupled with the ability to sprout tentacles made of energy, is dangerous, its most powerful weapon would be that it is able to devour the minds of humans. Because of this, it requires no Seki to control it. In that sense, it acts almost like a wild animal. Also, underneath its back, it has a secret hidden scythe, not unlike that of Kurumitsuha.
This monster kakashi was found (in its petrified form) by Kyohei, Aki and Mahiru, eight years before the storyline of the anime. Both Kyohei and Aki were able to sense a faint presence from it, meaning that if it had a Seki, it could be controlled. However, when the kakashi senses dark emotions from Aki, it awakens, breaking out of the shell that was covering it.
http://www.animeseason.com/kamisama-dolls-episode-13/
.